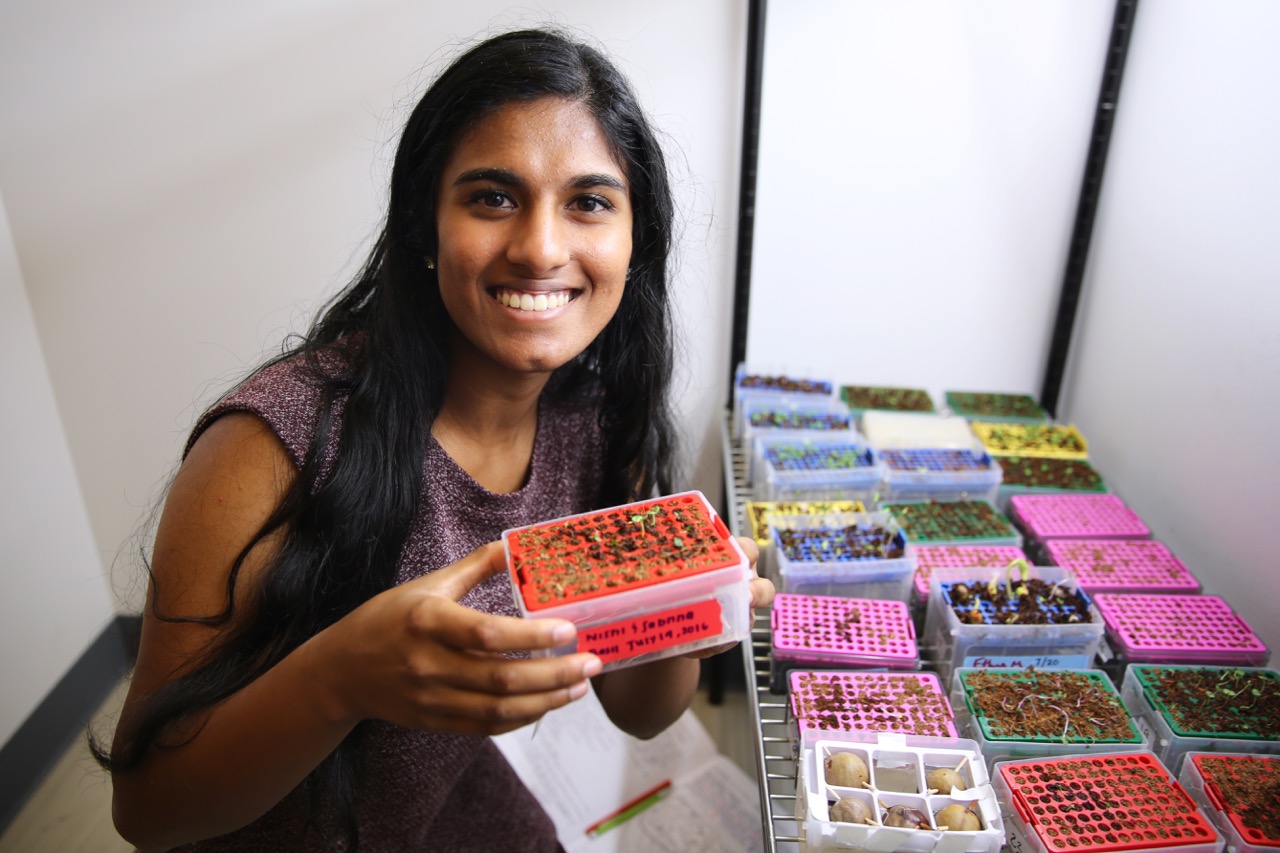 08 Nov

2016 Ambassador: Nishi Jain

Nishi Jain
Bellevue High School
Bellevue, WA
Future career goals
Neurology and Neurosurgery
Description of your school/organization
Bellevue High School is a public school that consists of grades 9-12 and has about 1600 students and has many service clubs that are active throughout the course of the year. These student organizations are active in a variety of different areas, primarily social service, but we also have a green team (called earth club) that is active during the year. In addition, Bellevue High School is a school that places a lot of emphasis on AP classes, and as a result offers AP Biology, AP Chemistry, and AP Environmental Science-all of which could be areas in which the aquaponics and hydroponics curriculum could be implemented. (Data collection is periodical)
What originally made you interested in this project?
I was initially interested in this project due to the fact that environmentalism and sustainable living was not something that I was well acquainted with and was something that I wanted to learn. I believe that with the disparity in food distribution and the necessity for green lifestyles is getting greater and greater, and I believe that establishing aquaponics and hydroponics in our community (and hopefully beyond our community) is something that will help alleviate the problem that we currently are encountering.
Why do you want to bring this project to your school/community center/organization? What are your objectives?
I want to bring this project to my community due to the fact that I want to allow the students who are interested in environmentalism to explore their passion to a greater extent, and I would like to expose the students who have not explored environmentalism or the green environmentalism to a greater extent. I think that it is important to make assets of students who have the power and the resources to resurrect the green movement in our school, and as a result I would like to target the students who are genuinely interested in this initiative. These students are individuals who I will come by after the duration of the program is complete (from the teacher), and will be those who have truly expressed interest in furthering the progress that our school is making in this global endeavor.
What current clubs are available? What teachers/courses could integrate this project?
Current Clubs that are pertinent to the cause: National Honors Society (potentially; I am president so I am thinking that there is something that I can do here); Earth Club (not really active)
What is your plan?
My plan is to create a post-AP program for the APES or AP Chemistry classroom, due to the fact that I believe that this is best path for program implementation. Clubs are taking place before school now, and that causes there to be lesser and lesser motivation to attend meetings, so I think that the best course of action is to put the program into the curriculum and make it a mandatory activity with the teachers. This means that the program will take place from May 15th until about June 15th (about 5 weeks). Below is the calendar that I would like to use for this endeavor (please note that this is something that is a draft, and might be changed in the future!) Please note that I am in the process of developing a calendar for the activities that will be taking place during this time-it will be done soon.
During the AP session, we will start with the introduction to hydroponics, stakeholders, and food security as we started in this program itself. I think that it s very valuable to understand the background knowledge to aquaponics and hydroponics before learning to build one yourself. That way it really gives global, economic, and political context to this project and to this study-something that is not always done by the other projects that are conducted during the post-AP season. After this background session is done (will take the first week), then there will be brainstorming for designs, as well as requirements for the materials that the teacher (or I) will set. This second week will consist of the majority of the building taking place in class, and by the Friday the student needs to be done with their hydroponics system, and they will be collecting data the following week. For the third week, the students will be tasked with creating presentations on various facets of the aquaponics design, including the fish, the medium, and the plants, and the roles that each of these things play in the system itself. Students will be given monday to create their presentations, and then on Tuesday, they will get in small groups and present. Finally, for the 4th week, the students will be researching current aquaponic and hydroponic systems that have been implemented on a grand scale and on an industrial level. This whole 4th week will be researching in groups, and the 5th and final week (finals week) will be presenting the project to their peers in the class. There will be signups for slots.
What challenges do you think you will face in getting this set up?
-Teachers saying yes to this curriculum
-Possible funding needs
-Student's hard work after the AP test (the motivation level for the students–especially the seniors–really takes a hit)