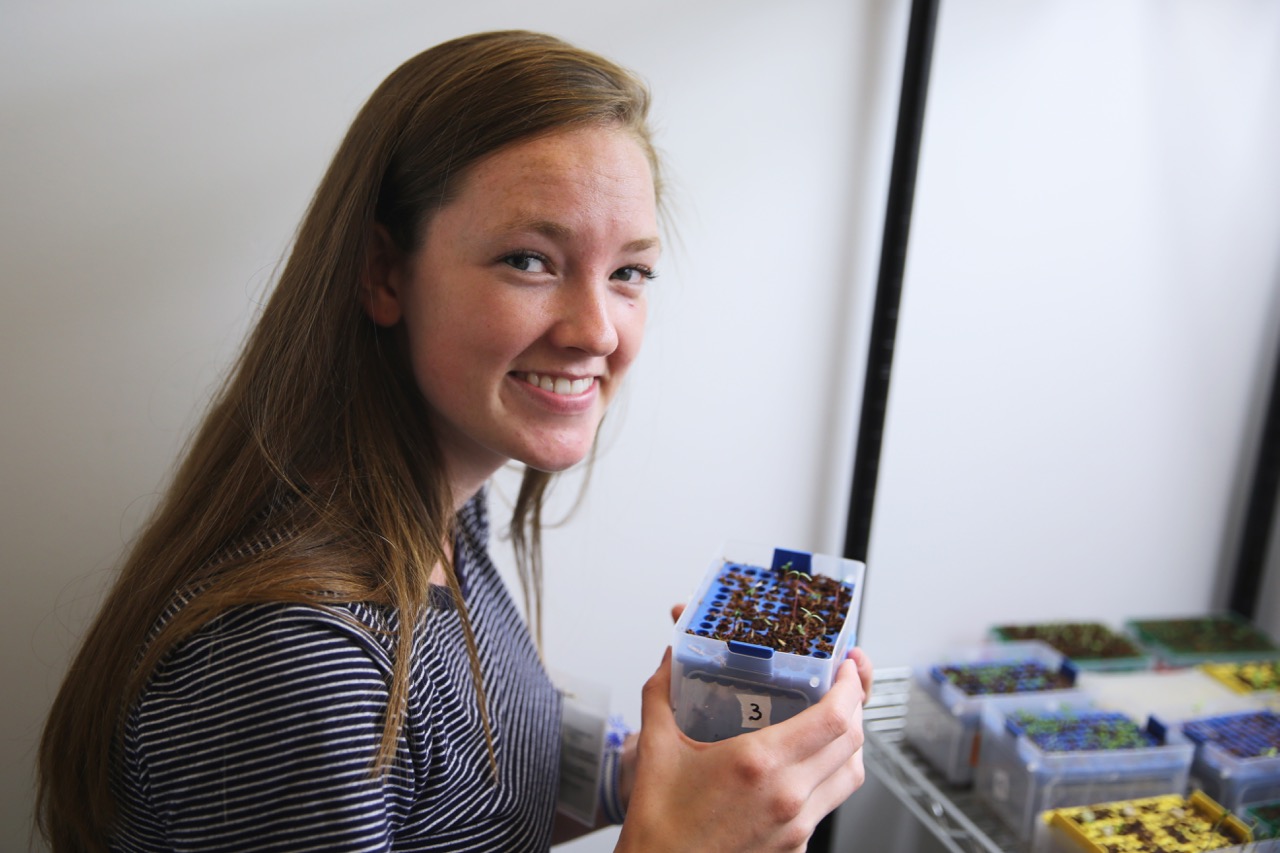 08 Nov

2016 Ambassador: Ali Prevost-Reilly

Ali Prevost-Reilly
The Northwest School
Seattle, WA
Future career goals
I am very interested in working in the field of genetics as a research scientist. Some of the most exciting academic work I have done has been the studying of population genetics and examining Mendelian inheritance patterns, and I am eager to expand my knowledge in this field, and in scientific research methods as a whole. The work of the research scientists at the Institute for Systems Biology is very interesting to me, especially their focus on using genetic information to further learn about human diseases. In the field of scientific research, I would constantly be learning and growing as a scientist, fueled by a constant motivation to discover. A researcher is an essential component in the process of solving a problem, and by doing my job I could potentially be helping hundreds of people.
Description of your school/organization where you plan to integrate this project
Northwest is a small private middle school and high school located in the very urban environment of Capitol Hill, near downtown Seattle. Promoting and exercising sustainability has been a major focus of the Northwest School since its founding. An environmental interest group, a garden program, an outdoor program, environment coordinators, and an environment program all already exist at Northwest, and are good classes and clubs to target for potential peer and faculty interest.
What originally made you interested in this project?
I am very interested in a career in scientific research, and the work that the Institute for  Systems Biology does. As I began to take a more detailed look at ISB's work, I learned about Project Feed 1010. Project Feed 1010 caught my attention because of its immense relevance to us all. Food security is one of the most pressing issues today, and it is one that applies to everyone across the globe, rather than just a select few. When a problem affects as many people and in as direct a way as food insecurity does, it is impossible to ignore.
Why do you want to bring this project to your school/community center/organization? What are your objectives?
In my school environment, I believe people are aware of the issue of food insecurity, but regard it as an abstract and distant concept. When we simply hear the world's population will reach 10 billion by 2050, we cannot comprehend what that truly means, and the ramifications a population so large will bring with. Introducing Project Feed 1010 also means introducing the 30% gap of demand and supply for water by 2030, the issue of food deserts, and that if we continue to do agriculture the way we do now, we will not be able to support the people on this planet. It is a shocking reality, but one that not only needs to be presented, but also understood. Project Feed 1010 provides people with this information, but also gives them a way to act.
What current clubs are available? What teachers/courses could integrate this project? When is the deadline to start a new club, etc?
-Environment Program
-Environmental Interest Group
-Science teachers
-Environment Coordinators
-The Kitchen
-New Interest Group
What is your plan? Explain in as much detail as possible. Ex: Is this an afterschool club, integrating into a teacher's classroom, community center, etc. What do you plan to do with it? What are your objectives of setting this up? What does your timeline look like throughout the year?
There are multiple different angles I could go from, possibly with varying effectiveness:
-Environment Program
Three days a week each week every student (and most faculty) at the school meet with their environment team for around 20 minutes. Each team has a designated section of the school for which they are responsible for maintaining and cleaning. Teams are assigned to classrooms, the garden, the cafeteria, the school's compost, recycling, "special projects", etc. Each team is led by a senior and a faculty member, and consists of students across all grade levels. I believe it would be possible to create an aquaponics/hydroponics environment team. The system could be set up in an area in the school (possibly the garden, but may have issues with weather, or in a classroom), and a team could be assigned to that area. Hopefully three times a week would be enough time to run the water tests and maintain the system once it has already been established. It would definitely take more time to set it up, and if anything catastrophic happens, to fix those issues. This is a potential obstacle to this proposition. A faculty member would need to be found that expresses interest in aquaponics and would be willing to help lead the team. I definitely think multiple teachers would be interested, especially the environmental coordinators, science teachers, and outdoor program leaders. The hard part would be finding one that is available and willing to take the extra work on.
-Environmental Interest Group
This is definitely a group of people that would be interested in aquaponics/hydroponics, however they like to do an assortment of different things throughout the year, rather than focus on one time consuming project, such as creating an aquaponics system. While they would be great support, and for setting up the system, it may not be possible to maintain the system within this group.
-Cafeteria/ Lunch Program
The lunch program at our school serves really delicious, local and fresh food. I think they would be interested in a collaboration with our system. We could possibly grow them food to use when they cook. While we might not really receive support from the kitchen, growing food for them would be an additional incentive to start an aquaponics program and I think it would increase the school's interest in starting one.
What challenges do you think you will face in getting this set up?
-Funding
-Getting a committed staff member
-Finding space in the school
-Creating enough interest within the school
-Building a successful aquaponics system
-Not enough advanced notice