23 Dec

Featured Student Design
Design Team
WaNIC Medical Science Class
Instructor: Jessica Day, M.S.
Students:
Natallie Windsor, Interlake High School Bellevue, WA,  Grade 12

Abel Corrales, Interlake High School Bellevue, WA Grade 11

Cricket McGuire, Interlake High School Bellevue, WA Grade 11

Hansol An, Interlake High School Bellevue, WA Grade 12

Quynh Phung, Inglemoor High School, Kenmore WA Grade 12
Here are Materials list and recipe for DIY Aquaponics developed by this team. Share your design recipes with us and others.
Materials

1 gallon, media-based technique, 1 betta fish, wheat grass

Item

Quantity

Size

Cost

Company

Libbey Floral Vase*
1
3.469″L x 3.469″W x 10″H
$4.97
Walmart
Plastic Cereal Bowl
1
N/A
$1.50
Daiso
Male veiltail betta fish
1
Adult
$3.14
Petco
100 Wheatgrass Seeds
1
100 seeds
$2.28
Ebay
HydroBalls Lightweight Expanded Clay Terrarium Substrate – 2.5 lb
1
2.5 lbs
$3.99
Big Al's Pets
SunSun 50 GPH Submersible Water Pump
1
50GPH
$6.53
Amazon
Black Poly Airline Tubing – 3/8″ ID (1/2″ OD)
2 ft
1/2″ or 5/16″ ID
$2.00
Marine Depot
Zym Bac – Nitrifying Bacteria 4 oz
1
4 oz
$5.95
The Aquaponic Source
Lab Plastic Culture Tubes 12ml (5)
1
13 x 75 mm
$6.44
Amazon
Tetra EasyStrips 6 in 1 Aquarium Test Strips Kit
1
25 strips
$11.89
Petco
Tetra EasyStrips Ammonia Aquarium Test Strips
1
25 strips
$7.59
Jet.com
Drinking Straw*
1
N/A
N/A
N/A
Plastic falcon tube (5)
1
50ml
$5.25
Amazon
Total
$61.53

*Items you can find around the house

 

 

 

 

**Items you can find in a typical science classroom

 

 

 

 

Tools: knife, drill, drill bits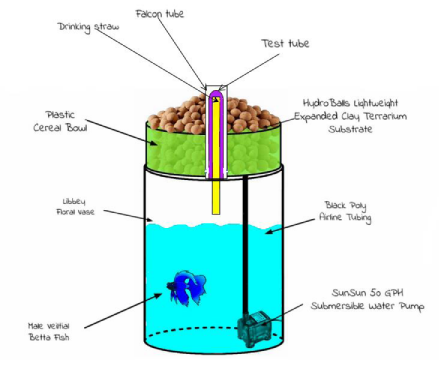 Design Diagram
 Procedure for making an Aquaponics system (growth media)
Get all the materials ready to make your aquaponics system! (Make sure you wash the fish tank and grow bed container prior to using it).

Once you have all of your supplies,

drill a .3" hole (we'll call this "Hole A")

in the bottom of the plastic grow bed (make sure your hole is in the center of the grow bed).

Drill ½" hole (we'll call this "Hole B")

next to the first hole you drilled for the tubing from the water pump to pass through (these two holes should be about ½ cm away from each other).

Place the airline tubing into the water pump outlet.

Place the water pump inside the fish tank, having the airline tubing come out of the fish tank.

Pull the tubing from the water pump through Hole B in your grow bed.Then set the grow bed on top of the tank (make sure that your grow bed is not too small and fits perfectly).

Additionally, make sure that when you pull the tubing through, it is long enough to go around almost the entire inner surface of your grow bed (if it is any longer, cut off the excess tubing to a desired length).

Now, you will make a bell syphon using the straw and a plastic test tube! First, cut the straw to be the length of 2 inches (you can throw the rest away, it won't be needed anymore).

Take your plastic test tube, measure ½ cm vertically (down) from the opening of the test tube, and drill a 3/16" hole perpendicular (going through both sides).

Now take your 2 inch straw and put it halfway through Hole A in your grow bed, so that 1" is sticking out from both sides of the grow bed.

Take the lid off of the falcon tube and carefully with a knife, cut the bottom off the falcon tube (the pointy side/tip) so that it has two open ends.

Around the mouth of the falcon tube, measure ½ cm vertically (going down).Then drill four or five 3/16" evenly spaced holes, around the mouth of the test tube.

Now take your test tube and place it over the straw, then place the falcon tube over the test tube (Now your bell syphon is completely constructed).

Check to make sure that your tubing is wrapped around your grow bed, and has not moved or shifted.

Take the clay pellets and fill your entire grow bed to the top. (During this time, you should hold your falcon tube and test tube in place while pouring in the clay pellets so that they stay in place).

Take your fish tank and fill it  ⅔ of the way up with water (clean up any extra water around your area) and turn on your water pump (Depending on the size of your tank, grow bed and pump, you may have to adjust the flow, making sure it is not too fast and not too slow).

Note; at this time the water should be flowing through the bell syphon, and back into the fish tank (containing water) so that you have a continuous flow of water.

Additionally, check the pH of your water using a 6 in 1 pH test kit, follow the directions on the package to test the pH. You ideally want everything to be neutral, if chlorine is too high (usually is high in tap water) you will want to let your water sit for a few days and then test it again.

Once your system is all put together you can sprinkle your wheatgrass seeds over the clay pellets (make sure that the seeds are not just simply sitting on top of the clay pellets but are actually covered by the clay pellets).

Then you will need to wait a few days, so the chlorine level is not too high.

Finally, after all of these steps are completed you will be able to add your fish to the fish tank! (The amount of fish depends on the size of your system, but for this particular system one betta fish is recommended).