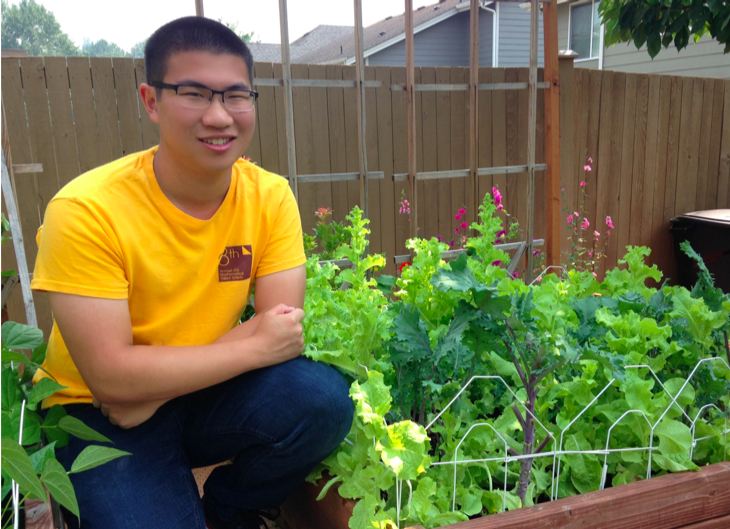 24 Sep

2017 Ambassador: Jerry Cao

Jerry Cao
Inglemoor High School
Kenmore, WA
FUTURE CAREER GOALS
Bioengineering or Statistics
DESCRIPTION OF YOUR SCHOOL/ORGANIZATION
Inglemoor is a public school with about 1800 students. It is in Kenmore, Washington and attracts many waver students with its IB program. There is a dedicated time for clubs to meet during Mondays and Tuesdays every week.
WHAT ORIGINALLY MADE YOU INTERESTED IN THIS PROJECT?
When I moved to my new house, the backyard was non-arable. It took days of carting topsoil to make it hospitable for our current plants and trees. I'm fortunate to live in a country where topsoil is plentiful and cheap; however, this isn't the case for millions of people around the world suffering from food insecurity.
Food security is a major issue and traditional, soil-based agriculture simply won't cut it as Earth's population grows exponentially. Aquaponics offers a practical solution by eliminating the need for arable land and reducing water consumption by 95%.However, relatively little research has been done on aquaponics, making it far less common than conventional food production methods . I want to help spread awareness in my community and let people understand the benefits of aquaponics so that one day, aquaponics will become the norm for agricultural production.
WHY DO YOU WANT TO BRING THIS PROJECT TO YOUR SCHOOL/COMMUNITY CENTER/ORGANIZATION?
I want to integrate aquaponics at my school, so students can better understand how the information we learn in biology class can have an impact on our local community and potentially the entire world.
WHAT CURRENT CLUBS ARE AVAILABLE? WHAT TEACHERS/COURSES COULD INTEGRATE THIS PROJECT?
Possible courses: IB Design Tech (creating an aquaponics system), IB Biology I (within the ecology/plants unit)
Current clubs: Science Olympiad, Earth Corps
WHAT IS YOUR PLAN?
My plan is to first approach the IB Design Tech teacher with a blueprint, a materials list, and a Donors Choose application for funding to build aquaponic systems. I will explain what aquaponics is and how building the system would give students the experience of creating their own blueprint and teach them problem solving strategies as they figure out how to minimize cost and size. Additionally, they could make it a contest by allowing the top designs to be used by the two IB Biology classes. After that, I would go to the IB Biology teachers and explain the benefit of integrating aquaponics. It would teach students about the nitrogen cycle, ecological footprint, food webs/chains, and long-term data collection.
WHAT CHALLENGES DO YOU THINK YOU WILL FACE IN GETTING THIS SET UP?
– Building the aquaponic system and ensuring it does not collapse over the school year
– Getting the teacher to change their existing curriculum
– Raising money to first set up the system
RESOURCES BY JERRY
– Aquaponics System Blueprints
– Materials List
– Project Proposal